About Us
Sunrise Mediterranean Restaurant is a Chicken takeaway in Liverpool. Why don't you try our Rich Chocolate Pudding or Classic Steak Burger?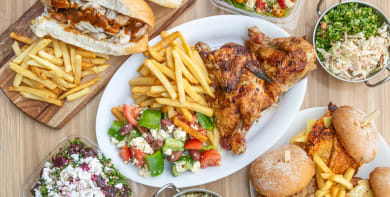 Reviews
258 reviews
Andy
"Great food and service! Slightly pricy but the food is nice and service is good!"
19/06/2021
Andy
"Great good"
31/05/2021
Angela
"Beautiful meal received as always I would not purchase from any other takeaway, beautifully cooked marinated lamb chops fresh salad will purchase again soon."
29/05/2021
Tracy
"Perfect lamb chops as per usual, rice was lovely"
25/05/2021
Menu
Coca-Cola Original Taste 330ml Can
£1.00
Home made Soup of the Day
Served with freshly baked Kurdish bread
£4.50
Ezme Salata
Finely Chopped tomatoes, cucumbers, green peppers, red onions and parsley with lemon juice.
Served with pitta bread
£4.50
Halloumi
Grilled Hallomi cheese, served with salad
£4.50
Aubergine Ratatoullie
Delicious stewed aubergine, tomatoes and pepper, served with pitta and salad
£4.50
Falafel
Mediterranean falafel served with tahini sauce and salad
£4.50
Hummus
Blended chickpeas mixed with tahini, olive oil,lemon juice and garlic, served with pitta bread.
£4.50
Peynirli Borek
Small parcels of filo pastry filled with feta cheese and parsley. Served with salad
£4.50
Salmon Pastry
Small parcels of filo pastry filled with salmon and fresh herbs ad served with swet chilli sauce and salad
£4.95
King Prawns
King Prawns marinated with garlic and herbs.Served with salad and salsa dip
£5.50
Calamari
Calamari rings with home made tartare sauce and side salad
£4.95
Fish Cakes
Fillet of salmon minced with Mediterraneoan herbs . Served with salad and salsa dip
£4.95
Lamb Kofte
Grilled lamb mince skewers with yogurt dip and salad
£4.95
Sucuk Izgara
Grilled garlic sausages with youghurt dip and salad
£4.95
Chicken Skewers
Succulent cubes of chicken on skewers, served with yoghurt dip and salad
£4.95
Tuna Salad
Crunchy mixed salad with fresh tuna fish
£7.95
Grilled Salmon Salad
Crunchy mixed salad topped with flaked grilled salmon & a dash of lemon dressing
£7.95
Chicken & Avocado Salad
Crunchy mixed salad served with chicken & fresh avocado, lightly dressed & seasoned
£7.95
Caesar Salad
Crunchy mixed salad with seasoned chicken
Topped with caesar dressing & herb croutons
£7.95
Greek Salad
Tossed cucumber, tomatoes, red onion & green pepper, topped with a light oil dressing, feta cheese & olives
Suitable for vegetarians
£6.50
Cajun Chicken Burger
Sliced chicken breast, marinated with cajun spice, grilled & served on an open bun with chips & tomato salsa dip
£10.95
Sunrise Lamb Burger
Lamb burger with mozzarella cheese, served on an open bun with salad, chips & tomato salsa dip
£11.95
Tuna Burger
A delicious marinated tuna steak served on an open bun with salad, chips & tomato salsa dip
£11.95
Ribeye Steak Burger
8oz Ribeye steak, grilled & served on an open bun with salad, chips & tomato salsa dip
£12.95
Chicken Mozzarella Asparagus
Breast of chicken marinated & baked in the oven with asparagus & mozzarella, served with rice & salad
£11.95
Sunrise Kebab
Mince lamb & fresh herb skewer cooked in the oven in special sunrise homemade sauce
Served with rice & salad
£11.95
Lamb Moussaka
Minced lamb moussaka cooked with Mediterranean herbs served with garlic bread, rice & salad
£11.95
Sunrise Special
Layer of char-grilled chicken, lamb chop & lamb kofta
Served on pitta with rice, side salad & flavoured yoghurt dip
£15.95
Chicken Kebab
Marinated cuts of chicken & roasted peppers, served with rice, salad, pitta bread & yoghurt dip
£11.95
Lamb Chops
Marinated lamb chops, grilled & served with rice & side salad
£12.95
Ribeye Steak
10oz Ribeye steak, served with mushrooms, fried onions & chips
£16.50
T Bone Steak
10iz T-Bone Steak, with mushrooms, fried onions and chips
£16.50
Salmon Maroo
Baked salmon fillet marinated with seasoning
Served with new potatoes, rice & side salad
£12.95
Cod with Crispy Potatoes
A fillet of cod cooked in the oven with cherry tomatoes, a splash of olive oil
Served with crispy potato wedges & a side salad
£12.95
Grilled Tuna Steak with Mango
A meaty tuna steak, grilled & marinated with a mango dip
Served with rice, boiled potatoes & side salad
£11.95
Sunrise Prawns
A succulent dish of king prawns with fresh herbs & mushrooms, served with boiled potatoes
£14.95
Fresh Tagliatelle
Fresh egg tagliatelle served with garlic, olive oil, halloumi cheese & cherry tomatoes
Suitable for vegetarians
£9.95
Moussaka
Vegetarian moussaka served with garlic bread, rice & salad
Suitable for vegetarians
£9.95
Halloumi Kebab
Halloumi cheese & mixed vegetable skewers, char-grilled & served with pitta bread, rice & salad
Suitable for vegetarians
£9.95
Karniyarik
Roasted aubergine, smothered with onion, tomatoes & fresh Mediterranean herbs
Served with garlic bread, side salad & rice
Suitable for vegetarians
£9.95
Veggie Souvlaki
Aubergine ratatoulie served with garlic and coriander flat bread, salad and chips.
Suitable for Vegetarians
£9.95
Lamb Guvech
Cubes of lamb kofta simmered with Mediterranean vegetables, served with rice & garlic bread & salad
£11.95
Seafood Guvech
Marinated tuna steak & king prawns, served with rice, garlic bread & salad
£12.95
Chicken Guvech
Marinated chicken simmered with Mediterranean vegetables, served with rice, garlic bread & salad
£11.95
Chips
Suitable for vegetarians
£3.00
Garlic Bread with Mozzarella
Suitable for vegetarians
£3.00
Rice
Suitable for vegetarians
£3.00
Crispy Potatoes
Suitable for vegetarians
£3.00
Onion Rings
Suitable for vegetarians
£3.00
Side Salad
Suitable for vegetarians
£3.00
Dip Garlic Mayo
Yoghurt*Tahini*Relish*Sweet Chilli*Hot Chilli*Mayo*Garlic Mayo*Tartar
£0.50
Dip Hot Chilli
Yoghurt*Tahini*Relish*Sweet Chilli*Hot Chilli*Mayo*Garlic Mayo*Tartar
£0.50
Dip Mayo
Yoghurt*Tahini*Relish*Sweet Chilli*Hot Chilli*Mayo*Garlic Mayo*Tartar
£0.50
Dip Relish
Yoghurt*Tahini*Relish*Sweet Chilli*Hot Chilli*Mayo*Garlic Mayo*Tartar
£0.50
Dip Sweet Chilli
Yoghurt*Tahini*Relish*Sweet Chilli*Hot Chilli*Mayo*Garlic Mayo*Tartar
£0.50
Dip Tahini
Yoghurt*Tahini*Relish*Sweet Chilli*Hot Chilli*Mayo*Garlic Mayo*Tartar
£0.50
Dip Tartar
Yoghurt*Tahini*Relish*Sweet Chilli*Hot Chilli*Mayo*Garlic Mayo*Tartar
£0.50
Dip Yoghurt
Yoghurt*Tahini*Relish*Sweet Chilli*Hot Chilli*Mayo*Garlic Mayo*Tartar
£0.50
Kids Margherita Pizza with Chips
Suitable for vegetarians
£6.00
Kids Fish Fingers with Chips
£6.00
Kids Chicken Nuggets with Chips
£6.00
Kids Sausage & Mashed Potato
£6.00
Sticky Toffee Pudding
Traditional sticky toffee pudding served warm with a delicious rich toffee sauce
£4.50
Rich Chocolate Pudding
A moist chocolate sponge pudding served with cream
£4.50
Carrot Cake
Delicious mixed of carrots & fruit in a moist cake served with cream
£4.50
Tiramisu
Rich creamy dessert served with cream
£4.50
Baklava
A rich sweet pastry filled with chopped pistachios, sweetened with honey syrup & served with vanilla ice cream
£4.50
Sunrise Wrap
A great hot tortilla with flame grilled chicken, savoury vegetables and melted cheese.
Served with chips and salad
£11.95
Lamb Kofte Souvlaki
Marinated, minced lamb grilled and served with garlic and coriander flat bread, yogurt sauce, salad and chips
£11.95
Chicken Souvlaki
MArinated Chicken served with garlic and coriander flat nbread, yogurt sauce, salad and chips
£11.95
Chef's Souvlaki
Grilled halloumi cheese and suck sausage served with garlic and coriander flat bread, yogurt sauce, salad and chips
£11.95
Contact Us
Find Us
57 St Johns Road, Liverpool, L229QB
We deliver to
L20, L21, L22, L23