About Us
Sunrise Mediterranean Restaurant is a Chicken takeaway in Liverpool. Why don't you try our Rich Chocolate Pudding or Classic Steak Burger?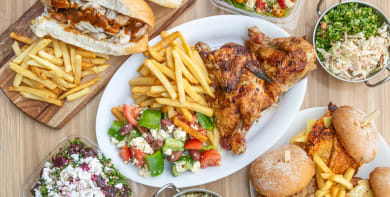 Reviews
311 reviews
Gemma
"Lovely food"
11/04/2021
Fred
"great food great service"
07/04/2021
Jan
"Delicious food, great size portions and good value."
06/04/2021
Susan
"Fab as usual"
02/04/2021
Menu
Home made Soup of the Day
Served with freshly baked Kurdish bread
£4.50
Ezme Salata
Finely Chopped tomatoes, cucumbers, green peppers, red onions and parsley with lemon juice.
Served with pitta bread
£4.50
Halloumi
Grilled Hallomi cheese, served with salad
£4.50
Aubergine Ratatoullie
Delicious stewed aubergine, tomatoes and pepper, served with pitta and salad
£4.50
Falafel
Mediterranean falafel served with tahini sauce and salad
£4.50
Hummus
Blended chickpeas mixed with tahini, olive oil,lemon juice and garlic, served with pitta bread.
£4.50
Peynirli Borek
Small parcels of filo pastry filled with feta cheese and parsley. Served with salad
£4.50
Salmon Pastry
Small parcels of filo pastry filled with salmon and fresh herbs ad served with swet chilli sauce and salad
£4.95
King Prawns
King Prawns marinated with garlic and herbs.Served with salad and salsa dip
£5.50
Calamari
Calamari rings with home made tartare sauce and side salad
£4.95
Calamari
Calamari rings with home made tartare sauce and side salad
£4.95
Fish Cakes
Fillet of salmon minced with Mediterraneoan herbs . Served with salad and salsa dip
£4.95
Lamb Kofte
Grilled lamb mince skewers with yogurt dip and salad
£4.95
Sucuk Izgara
Grilled garlic sausages with youghurt dip and salad
£4.95
Chicken Skewers
Succulent cubes of chicken on skewers, served with yoghurt dip and salad
£4.95
Chicken Mozzarella Asparagus
Breast of chicken marinated & baked in the oven with asparagus & mozzarella, served with rice & salad
£11.95
Sunrise Kebab
Mince lamb & fresh herb skewer cooked in the oven in special sunrise homemade sauce
Served with rice & salad
£11.95
Lamb Moussaka
Minced lamb moussaka cooked with Mediterranean herbs served with garlic bread, rice & salad
£11.95
Salmon Maroo
Baked salmon fillet marinated with seasoning
Served with new potatoes, rice & side salad
£12.95
Cod with Crispy Potatoes
A fillet of cod cooked in the oven with cherry tomatoes, a splash of olive oil
Served with crispy potato wedges & a side salad
£12.95
Grilled Tuna Steak with Mango
A meaty tuna steak, grilled & marinated with a mango dip
Served with rice, boiled potatoes & side salad
£11.95
Sunrise Prawns
A succulent dish of king prawns with fresh herbs & mushrooms, served with boiled potatoes
£14.95
Chips
Suitable for vegetarians
£3.00
Garlic Bread with Mozzarella
Suitable for vegetarians
£3.00
Rice
Suitable for vegetarians
£3.00
Crispy Potatoes
Suitable for vegetarians
£3.00
Onion Rings
Suitable for vegetarians
£3.00
Side Salad
Suitable for vegetarians
£3.00
Kids Fish Fingers with Chips
£6.00
Kids Chicken Nuggets with Chips
£6.00
Kids Sausage & Mashed Potato
£6.00
Kids Margherita Pizza with Chips
Suitable for vegetarians
£6.00
Sticky Toffee Pudding
Traditional sticky toffee pudding served warm with a delicious rich toffee sauce
£4.50
Rich Chocolate Pudding
A moist chocolate sponge pudding served with cream
£4.50
Carrot Cake
Delicious mixed of carrots & fruit in a moist cake served with cream
£4.50
Tiramisu
Rich creamy dessert served with cream
£4.50
Baklava
A rich sweet pastry filled with chopped pistachios, sweetened with honey syrup & served with vanilla ice cream
£4.50
Dip Yoghurt
Yoghurt*Tahini*Relish*Sweet Chilli*Hot Chilli*Mayo*Garlic Mayo*Tartar
£0.50
Dip Tahini
Yoghurt*Tahini*Relish*Sweet Chilli*Hot Chilli*Mayo*Garlic Mayo*Tartar
£0.50
Dip Relish
Yoghurt*Tahini*Relish*Sweet Chilli*Hot Chilli*Mayo*Garlic Mayo*Tartar
£0.50
Dip Sweet Chilli
Yoghurt*Tahini*Relish*Sweet Chilli*Hot Chilli*Mayo*Garlic Mayo*Tartar
£0.50
Dip Hot Chilli
Yoghurt*Tahini*Relish*Sweet Chilli*Hot Chilli*Mayo*Garlic Mayo*Tartar
£0.50
Dip Mayo
Yoghurt*Tahini*Relish*Sweet Chilli*Hot Chilli*Mayo*Garlic Mayo*Tartar
£0.50
Dip Garlic Mayo
Yoghurt*Tahini*Relish*Sweet Chilli*Hot Chilli*Mayo*Garlic Mayo*Tartar
£0.50
Dip Tartar
Yoghurt*Tahini*Relish*Sweet Chilli*Hot Chilli*Mayo*Garlic Mayo*Tartar
£0.50
Lamb Guvech
Cubes of lamb kofta simmered with Mediterranean vegetables, served with rice & garlic bread & salad
£11.95
Seafood Guvech
Marinated tuna steak & king prawns, served with rice, garlic bread & salad
£12.95
Chicken Guvech
Marinated chicken simmered with Mediterranean vegetables, served with rice, garlic bread & salad
£11.95
Fresh Tagliatelle
Fresh egg tagliatelle served with garlic, olive oil, halloumi cheese & cherry tomatoes
Suitable for vegetarians
£9.95
Moussaka
Vegetarian moussaka served with garlic bread, rice & salad
Suitable for vegetarians
£9.95
Karniyarik
Roasted aubergine, smothered with onion, tomatoes & fresh Mediterranean herbs
Served with garlic bread, side salad & rice
Suitable for vegetarians
£9.95
Halloumi Kebab
Halloumi cheese & mixed vegetable skewers, char-grilled & served with pitta bread, rice & salad
Suitable for vegetarians
£9.95
Veggie Souvlaki
Aubergine ratatoulie served with garlic and coriander flat bread, salad and chips.
Suitable for Vegetarians
£9.95
Sunrise Special
Layer of char-grilled chicken, lamb chop & lamb kofta
Served on pitta with rice, side salad & flavoured yoghurt dip
£15.95
Chicken Kebab
Marinated cuts of chicken & roasted peppers, served with rice, salad, pitta bread & yoghurt dip
£11.95
Lamb Chops
Marinated lamb chops, grilled & served with rice & side salad
£12.95
Ribeye Steak
10oz Ribeye steak, served with mushrooms, fried onions & chips
£16.50
T Bone Steak
10iz T-Bone Steak, with mushrooms, fried onions and chips
£16.50
Sunrise Wrap
A great hot tortilla with flame grilled chicken, savoury vegetables and melted cheese.
Served with chips and salad
£11.95
Lamb Kofte Souvlaki
Marinated, minced lamb grilled and served with garlic and coriander flat bread, yogurt sauce, salad and chips
£11.95
Chicken Souvlaki
MArinated Chicken served with garlic and coriander flat nbread, yogurt sauce, salad and chips
£11.95
Chef's Souvlaki
Grilled halloumi cheese and suck sausage served with garlic and coriander flat bread, yogurt sauce, salad and chips
£11.95
Cajun Chicken Burger
Sliced chicken breast, marinated with cajun spice, grilled & served on an open bun with chips & tomato salsa dip
£10.95
Sunrise Lamb Burger
Lamb burger with mozzarella cheese, served on an open bun with salad, chips & tomato salsa dip
£11.95
Tuna Burger
A delicious marinated tuna steak served on an open bun with salad, chips & tomato salsa dip
£11.95
Ribeye Steak Burger
8oz Ribeye steak, grilled & served on an open bun with salad, chips & tomato salsa dip
£12.95
Grilled Salmon Salad
Crunchy mixed salad topped with flaked grilled salmon & a dash of lemon dressing
£7.95
Chicken & Avocado Salad
Crunchy mixed salad served with chicken & fresh avocado, lightly dressed & seasoned
£7.95
Caesar Salad
Crunchy mixed salad with seasoned chicken
Topped with caesar dressing & herb croutons
£7.95
Greek Salad
Tossed cucumber, tomatoes, red onion & green pepper, topped with a light oil dressing, feta cheese & olives
Suitable for vegetarians
£6.50
Tuna Salad
Crunchy mixed salad with fresh tuna fish
£7.95
Contact Us
Find Us
57 St Johns Road, Liverpool, L229QB
We deliver to
L20, L21, L22, L23